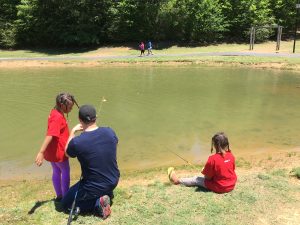 We were excited when a Sunday school class from a local church contacted us about bringing some of our friends to join them at the park for fishing and a cook-out.  Of course we said yes! We brought about 12 children and three adults with us… And our joys were multiplied in priceless new adventures and memories: eating, playing, fishing, and sharing life.
I have to admit, I was nervous watching our children with hook and line in hand. I was more than a little afraid someone would hook something other than a fish– like someone's human flesh. But thankfully, that never happened.  Only one child snagged her own shirt. Phew. How blessed we were by the patience of our hosts, and by the loving encouragement of their conversation and interaction!
As we left the park a couple hours later, each child carried a treasured meal of leftovers in a take-home bag. How thoughtful of our friends! And do you know what we left them? We left them holding three impossibly tangled fishing lines. Yes. We did. Ugh, it was a mess! And as I apologized profusely,  all our host said was, "Not a problem. Not a problem at all." And I knew he meant it. He had the grace to deal with the mess we were leaving him.
Oh, how striking the spiritual parallel was to me at that moment! Sometimes the lives we touch are just like those fishing lines. Sometimes our own lives are like those fishing lines! Hopelessly, hopelessly tangled. But the Lord, like our gracious host, is not put off by messes.  He is able to untangle what is impossible for us.  In fact, He delights to do it! We are eternally grateful to see the Lord at work, doing the impossible.  He knows what to do about tangled fishing lines!
Lamentations 3:22-23, " The steadfast love of the Lord never ceases. His mercies never come to an end; they are new every morning; great is your faithfulness. "