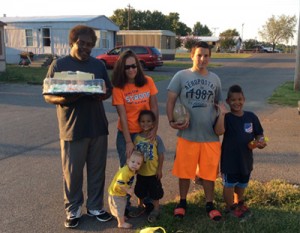 The "Birthday Surprise" story (post date: March 3, 2015) is not the whole story. On a rainy evening in June we delivered a birthday cake to Quent. Or I should say, we prayed and God delivered. But we had no idea the prayers on the other end which fueled this divinely appointed delivery. My husband and I were overwhelmed all over again when we heard the rest of the story. It is a story that also needs to be shared.
After the birthday cake surprise, Quent and his wife wanted to know where we worshipped. We invited them to a prayer study we were about to start, "When God's People Pray."  And they came. The first night of the study they arrived a little late and found a seat. It was no small coincidence that the introductory question folks were in the process of answering, in addition to giving their names, was "what is your favorite birthday meal?"
When it was Quent's turn to introduce himself, he looked at us and said, "You already know what I want. All I want is birthday cake!" I thought Quent was simply remembering his surprise birthday cake. But he shook his head and began to share.
"No! My wife was praying for a cake. She knows all I want for my birthday is a cake. Just a birthday cake! Chocolate cake with white icing. I don't care about presents or a meal. Cake is my present. But this year we didn't have money for a birthday cake." Shortly before Quent's birthday, Melissa and Quent's toddler was hospitalized for several weeks with respiratory problems. Melissa couldn't keep her job because she was at the hospital with her child. Their finances were drained.
Quent continued to share his story. "God did it! God brought you to our door the night before my birthday with a birthday cake. But now I'm telling you the rest of the story. The cake you brought me was the only gift I wanted. Chocolate cake with white icing! My wife was praying for that cake."
Melissa jumped in at that point and finished Quent's story. "It had to be God!" 
Chocolate cake with white icing. What a marvelous testimony and example of what happens when God's people pray! "Call to Me, and I will show you great and wondrous things which you know not." Jeremiah 33:3