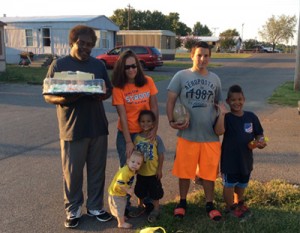 It was a rainy evening. We debated about whether or not we should wait to do our weekly baked goods "drop" in the neighborhood near our home. Finally, when we realized the rain was not going to let up, we prayed together that our offering of food would be a blessing. Then we got the golf umbrella and headed out.
John was the umbrella guy, and I was the bag lady.  I got to knock on doors and hand our friends a bag of bakery treats while John protected us- and the treats- from the rain. Normally our neighbors would enjoy choosing their own baked goods from our random selection in the trunk of our car. But not tonight!
We had one large item, a half-sheet cake decorated with the words, "Happy Birthday," to give away.  Because the Holy Spirit had recently brought a certain family to our attention, we made the decision to take the cake to them. We made that our first stop, hoping we were at the right home. A tall, dark man answered the door. Two children, not yet school-aged, stuck their heads out the screen-free screen door. Yes, this was the place!  I held the cake out to the dad.  Feeling a bit apologetic about the message on the cake, I said jokingly, "Happy Birthday!"
The man's eyes got big as saucers and his mouth dropped open.
"How did you know that tomorrow is my birthday?!" he exclaimed.
John and I looked at each other in glorious disbelief. And a giddy joy– more real than the rain rolling in rivers off our umbrella– bubbled up and spilled right out of us!
"We didn't know it was your birthday, but GOD DID! He  brought us to your door!"
Out of 150 units on this rainy summer night, the Holy Spirit directed us to just the right door.
"Wait 'til I tell my wife what God did!" he said.
Another glory story! Building blocks of faith. God did it!
"O magnify the Lord with me, and let us exalt His name together!" Psalm 34:3