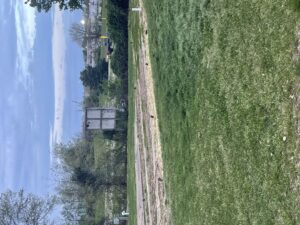 What do we have to say about Easter if we don't start with the cross? Without the cross, we have no death, and if no death, no resurrection. So for believers in Jesus who know that "Easter is coming," the cross has become a sign of victory!
Jesus made it clear that the cross is a personal imperative for each one of us. He calls us to take up our cross and follow Him. We must die in order to truly live. Jesus says in Luke 14:27, "Whoever does not carry his own cross and come after Me cannot be My disciple." We are on a day by day, moment by moment journey of surrender!
In the photo posted above, did you notice the cross on the sign in the yard? The yard is our future lot (space for an additional trailer), and a cross already marks our future ministry space! In light of growing needs around us and subsequently a need for more space, we recently purchased another trailer, soon to be delivered to the last vacant lot available at Candlelight.
In just the last two months, we have prayerfully agreed to take two more homeschool students, for a total of 14 students. Other parents have reached out about help with homeschooling next year, as well. Being equipped to help parents with their children's educational needs is an absolute gift. God is opening many beautiful doors!
There is more to be done! And it starts at the cross. His thoughts are not our thoughts, nor are His ways our ways (Isaiah 55:8-9). Is it always comfortable and easy? No, but it is always stunning! God's ways are so much higher, so much better! So we yield and we trust. There are more lives to touch! There is more light to shine, more grace to give, more hope to share, more love to show, more life to live….Less of us, more of Him.
1 Cor. 1:18, "For the word of the cross is foolishness to those who are perishing, but to us who are being saved it is the power of God."