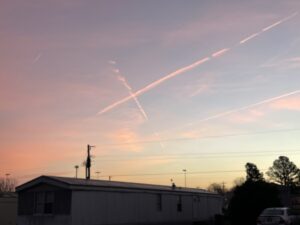 On January 5, 2022, an icy cold morning, I was on my early morning prayer run when I looked up at the sky and saw a cross. I always pay attention to the messages God writes in the sky, so I captured it in a photograph on my phone, and then continued on my run.
Because I have fallen several times while running (each time because I tripped on something like a stone or a stick),  I typically keep my eyes on the ground ahead of me so that I don't end up face down on the ground. But on this particular morning, that precaution did not serve me well.

I was coming down a street at Candlelight, watching the ground in front of me, when I looked up and saw that a car was coming straight toward me. And there was absolutely nothing I could do.  A moment later I was hit head-on by the car.

The driver's windshield was completely frosted over, so although his windows were rolled down, he did not, he could not, see me.  I remember the loud thud as the car hit my body; I remember my cry of "Jesus!" as I was thrown backward into the street, and I remember thinking that this could be the end….

After he hit me, the driver stopped his car and jumped out. He called 911 as he was imploring me not to move. But what a miracle took place next! I slowly rolled over; then I slowly, cautiously got back up on my feet. I had no injuries to speak of, no broken bones! I gripped the man's shoulders with my hands as I tearfully and passionately testified to him about the miraculous mercies of God we had just experienced. Tears were streaming down my face as I asked him if he knew Jesus, if he had a Bible, if he had ever read Psalm 91, if he understood that God had saved him and me. I am still overwhelmed by the miracle of it! I know God spared my life. 911 emergency personnel came in force, but when they arrived they looked around and asked, "Who is the one hit by the car?"
And the story still isn't over, because the driver of the car took the 2-mile walk home with me. He said he just couldn't believe that I was really okay. He insisted that he walk me all the way home so that he could see me walk in the front door with his own eyes.
Later that same morning, I looked at my music queue on my phone. While running that morning, I was praying and listening to "As the Deer." The song had stopped  playing when I was hit by the car, and it had stopped on the phrase, "You, O Lord, are my strength, my shield." Yes, Lord, You are!
What a beautiful, powerful Savior. I'm so thankful my story isn't over yet!
Psalm 91:11-12, "For He will give His angels charge over you, to guard you in all your ways. They will bear you up in their hands, lest you strike your foot against a stone."