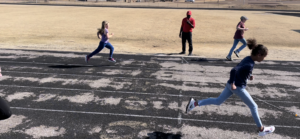 It was a beautiful Thursday morning when, for the first time ever, we cut through the opening in the trailer park fence and took off together for the track at the city park. We were planning to play some games on the field at the track. But when we arrived on site, we met a homeschool coach who was also there for the first time this season. He was coaching a group of elementary and middle school children, timing them and encouraging them as they ran down the track to the finish line. Our children watched with longing, chomping at the bit to be out there on the track with the others. Coach asked me if it would be okay to give them a turn on the track….And next thing we knew our children were flying down the track to the finish line, too!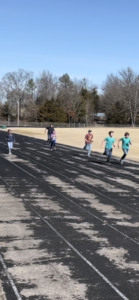 Watching the children run that morning, we recognized that the Lord had set up this beautiful appointment. It was our first time out, Coach's first time out, and God's perfect timing.

So our children have been invited to join a Track & Field team; and they are looking forward to running with it! We anticipate some great new experiences for the children as they embrace the opportunity to be part of a team. God shows up in such amazing ways, always right on time. Lord, keep our eyes fixed on You!
Hebrews 12:1-2. "Therefore, since we have so great a cloud of witnesses surrounding us, let us also lay aside every encumbrance and the sin which so easily entangles us, and let us run with endurance the race that is set before us, fixing our eyes on Jesus, the author and perfecter of faith, who for the joy set before Him endured the cross, despising the shame, and has sat down at the right hand of the throne of God."