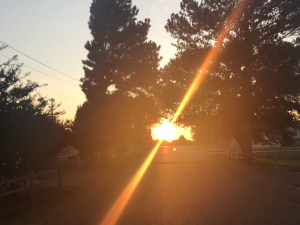 This I recall to my mind, therefore I have hope. The Lord's lovingkindnesses indeed never cease, for His compassions never fail. They are new every morning. Great is Your faithfulness." Lamentations 3:21-22.
I leave my house at about 6:15 AM every morning, while it is still dark, so that I can have my prayer run before the busy-ness of the day starts. And after I run to and through Candlelight and I'm heading back toward home, I see a glorious sunrise. Morning after morning, it never gets old! And even on cloudy or rainy mornings when clouds cover the sun, still I know the sun is there. Every morning.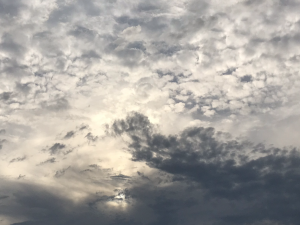 What a beautiful reminder this is to me of God's mercies. No matter what has gone on the day before or the night before, the sun rises. So it is with the Lord's unfailing love, His compassions, His mercies. That is all I need to know. Step by step, morning by morning, the Lord provides new mercies to meet every need.
Virtual learning with our children has been quite an adventure. It is amazing to me that the first two months of this year we didn't even have a full-size trailer. But God knew what was coming, and He provided. Our RV became home to a beautiful single woman needing a place to live. And our new trailer opened significant doors of ministry for our children, in God's perfect timing, allowing us to tutor over a dozen children over the summer.
When we made the commitment to help with online school, once again needs were met. One of our virtual teachers at Victory is actually a retired teacher who found TMC on line, began praying for us, came and found us, and then volunteered to teach our fourth graders (which happened to be our largest class of learners). I had never met this woman before, and she had no idea who I was or what we were planning to do with virtual learning. Yes, as surely as the sun rises each morning, God provides!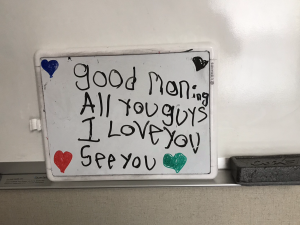 One of our second grade virtual students wrote this message on a marker board and propped it up for us to find on Monday morning. Kind of made me do a little happy dance around the room! Morning by morning, new mercies I see….
"But for you who fear My name, the sun of righteousness will rise with healing in its wings; and you will go forth and skip about like calves from the stall." Malachi 4:2