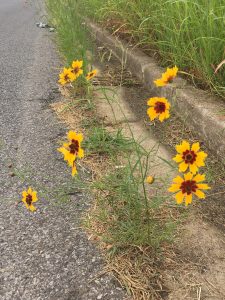 YOU NEVER KNOW HOW… OR WHERE… THE SEEDS YOU SOW
WILL BLOOM AND GROW.
YOU NEVER KNOW!
One beautiful, freeing truth I have learned on this journey of faith is that I do not control outcomes. But I do have the choice, every day, to sow seeds: seeds that have the potential to spring up and give life. I am so thankful that I have that choice! And because God always seeks to find the lost, to bring back the strays, to bind up the brokenhearted, and to heal the sick and diseased, I am confident He is at work in all the seed-sowing.
Not long ago we were gifted with umbrellas to give the children. The timing was perfect. The children needed protection from the rain on the very day we gave them out. And our gospel alphabet verse for the letter "g" that morning was Psalm 46:10, "God is our refuge and strength, a very present help in trouble."  Who knew umbrellas could be seeds?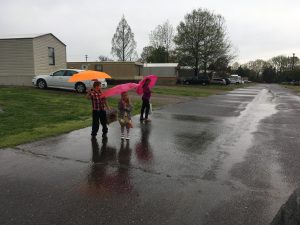 Flip-flops are like seeds, too. The same sweet folks who provided umbrellas also provided flip-flops for our children. I love knowing that the children are covered from the top of their heads (with an umbrella), to the the soles of their feet (by flip-flops)! These outward gifts of love bring an inward witness to the children. They are special, they are loved!
Transportation is a critical element to the ministries we provide. And sometimes we just don't have enough seat belts. But our church family, seeing our need, responded in an overwhelming way. They have given generously to help us purchase a 15-passenger van. Each financial gift is a seed; each nickel, each dime, each dollar is a seed! Woohoo! The children drew pictures in celebration of what's to come.
Bucket drumming, bible study, celebrating the successful completion of a GED, having overnights at our home, doing lice treatments on precious heads of hair plagued with relentless pests, going to court with hurting friends who've made mistakes and want to make it right…. Seeds, seeds, and more seeds.
The harvest is coming! A harvest of lives, precious ones who know Jesus is real and alive, because they have seen Him with their own eyes…
"I will seek the lost, bring back the strays, bind up the broken, and strengthen the sick…" Ezekiel 34:16