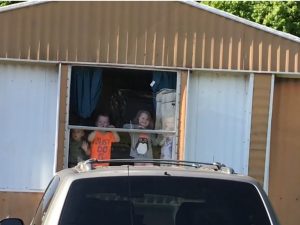 Shelter in place. I had never heard of such a thing before Covid-19. But in the midst of living with the current inconveniences and restrictions put in place for our protection, I remember that another shelter is in place, a place of safety and protection unlike any other. It is a God-shelter.
This Covid-driven season of "shelter in place" is also a time when we can be driven to seek something more: shelter from fear, anxiety, uncertainty. It's amazing to be able to offer something more to our friends. There's no gathering limit of 10, either. Let all the people come! Shelter in place.
Psalm 91:1-4: "He who dwells in the shelter of the Most High will abide in the shadow of the Almighty.  I will say to the Lord, 'My refuge and my fortress, my God in whom I trust!'  For it is He who delivers you from the snare of the trapper  and from the deadly pestilence. He will cover you with his feathers, and under His wings you may seek refuge. His faithfulness is a shield and bulwark." 
God runs to meet us when we turn to Him for shelter. He welcomes us with wide-open arms. No social distancing here. He gives His angels commands concerning us, and their wings cover us. His presence is our peace. He is our shelter in place.
"Jesus died to take away our sins…. He helps me sleep…. He gives me good dreams…. Jesus makes me live under a roof…. Jesus means love to me….He loves me and I love Him….I trust in Jesus…. Jesus is in the eye of the storm and He is in control…. He gives the fruit of the Spirit….He gives love and peace." These are some Easter 2020 testimonies from a few of the children we serve. How beautiful to see them taking shelter in His love!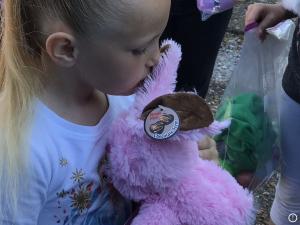 I delivered food to a family recently, and when I arrived the mom stepped outside with her daughter's bible open in her hands. She looked at me with eyes aglow and said, "I'm reading about the joy of forgiveness!" Wow. My heart is overwhelmed.
Shelter in place.  Abide in Me and I in you.*  There's no place I would rather be. God is here.
*John 15:8