Back in October at Olive Branch City Park, a stunning reflection of trees and sky on a pond captured my attention. I was so struck by it that I stopped to take a picture. Then as I continued to run, I thought about the way that life often appears messy and dirty and complicated… not at all like the reflection I had just photographed.
I began asking myself how I could be a better reflection, a clear reflection, of my beautiful Father. As children of God, we don't merely behold His glory, we have the privilege of reflecting His glory. A reflection is nothing without the object it reflects. How can I decrease so that He can increase? How does that happen? Only His grace.
When I receive the perfect, pure, powerful love of God, I am overwhelmed. John 3:16 says, "For God so loved the world, that He gave his only begotten Son…"  And right there I have the answer to my question.
God so loved. I will only reflect my loving Father if I have His love. My love is selfish and demanding, born out of the flesh. But His love is merciful and sacrificial. Oh, to reflect His love! God so loved… that He gave.  Love is not a close-fisted proposition demanding perfection from imperfect people.  Christ came for sinners! He didn't come to shame us, but to lift us up out of the messy, dirty, dark pits we are in. Oh, to be willing to embrace sacrifice with joy, to love even when it hurts. Oh, to be willing to give freely, as I have freely received. Christ's work on the cross is done, but He comes for us still!
Joyous Christmas!
(Photos below) REFLECTIONS OF THE JOY OF LOVING AND GIVING
* hot chocolate with marshmallows, songs and laughter on an unexpected snow day in November
*distributing over 150 fully-cooked corporately-donated turkey breasts to the people we serve
* distributing bags of groceries to complete the Thanksgiving day feast
* having a sports field day with some friends from church, getting a good "heart" workout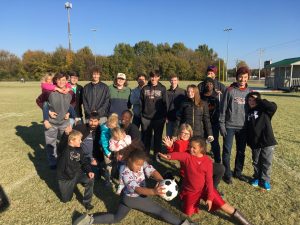 2 Cor. 3:18, "But we all, with unveiled face, beholding as in a mirror the glory of the Lord, are being transformed into the same image from glory to glory, just as from the Lord, the Spirit."