As we welcome 2023, we acknowledge a profound hunger in our hearts to see the Lord make Himself known yet more and more. It is our joy to put His incomparable love on display. May the proof of His love be irresistible to those we serve! Nothing in this world compares.
Over the past month we have had several beautiful opportunities with young house guests. Recently, one of our overnight friends stood quietly at the counter. After taking the top off our Scrabble box, he began searching through the letters. One by one, he placed the letters on his Scrabble easel, and then he looked up at me with serious eyes, not saying a word.
His Scrabble message speaks volumes.
In these two words I hear a profound cry: I need to know someone sees me! I need to know someone cares, and that my story matters!

I recognize this cry as the heart cry of each and every one of us until the time we hear the Lord Himself saying, "Do not fear, for I have redeemed you; I have called you by name. You are Mine!" (Isaiah 43:1).

This beloved declaration from the Lord calms every fear. The meaning and purpose we long for suddenly comes alive. All at once, we see light in the darkness! And in the revelation of our "belonging," we realize that our story is without a doubt not our story, but His. It is then we become what He intended for us to be all along: a reflection of His light, and a living love letter to others. This is "my story."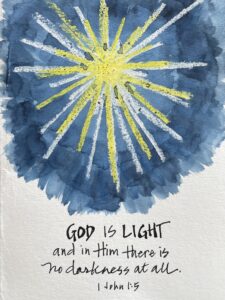 Shine through us, Lord, shine! Engrave Your love upon our hearts. With Your pen and our surrender, You write each story and You keep all Your promises.
I put down my pen. Please, Lord, write for me!
"The Lord also will be a stronghold for the oppressed, a stronghold in times of trouble; and those who know Your name will put their trust in You, for You, O, Lord, have not forsaken those who seek You." (Psalm 9:9-10).