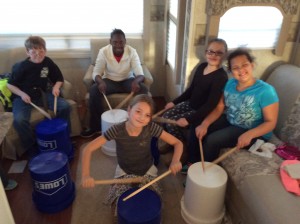 Look at the sweet faces in this photo. Can music lift them up, strengthen and unify them, comfort and encourage them, teach them truths and show them what LOVE looks like? Absolutely!  Here we are drumming out 1 Peter 5:6-7 ("… casting all your cares upon Him, for He cares for you.").  We follow that with Steven Curtis Chapman, drumming his prayer request into our hearts: "Love take Me Over." We share concerns and pray, and we play.  HEARTBeat. Every Wednesday.
Music is a reflection of culture.  It reveals what we think and believe, how we feel, what we hope for, how we act. But music also influences and  affects what we think, feel, and believe. Music has power! It can inspire us for better or for worse, going beyond words by weaving its way into our hearts and minds.
I hope that as we drum on our overturned 5-gallon buckets, we will actually learn to march to the beat of a different drummer together. What happens when we drum to the HEARTBeat of Love? We are changed!
We love these precious, beautiful, children and we pray they will hear His heartbeat, too.
"The Father's Song" by Matt Redman: "I have heard so many songs, listened to a thousand tongues, but there is one that sounds above them all. The Father's song, the Father's love, You've sung it over me and for eternity it's written on my heart. Heaven's perfect melody, the Creator's symphony! You are singing over me the Father's song.  Heaven's perfect mystery– the King of Love has sent for me.  And now You're singing over me the Father's song."
Zephaniah 3:17, "The Lord your God is in your midst, a victorious warrior.  He will exult over you with joy, He will be quiet in His love, He will rejoice over you with singing."