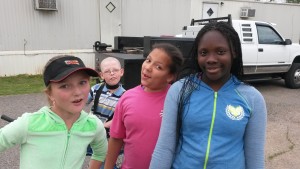 I am smiling because of a promise made to me by two young friends whom I met through Together Ministry Center. We have established honest, trusting relationships. Not long ago one of them looked at me with penetrating sincerity and said,"Mrs. Karen, I don't know how old you are. But when you die I am going to come to your funeral!" The other child nodded enthusiastically,  "Me, too!" I have to admit they caught me off guard, because they sounded a little too ready!
Although I could go many different directions with their (intended) compliment, I am still touched by the unspoken gift which they expressed to me that day.  That gift is love. They wouldn't come to my funeral expecting food, clothing, help with rent, books, tutoring, or drumming. Together Ministry Center has all these tools available as a means of offering hope and help, which is how I got to know these precious young people. And every tool is a vital component of TMC's ministry. Through the programs and services we offer, TMC has the opportunity to minister to anywhere from 80-100 people every week. But all these tools and gifts only point us to the greatest offering of all. Love!
Love is larger than stuff, larger than programs, larger than us. Love is always our goal, because love never fails. Love changes lives. Together Ministry Center is feelin' the love!
"We love because He first loved us."  1 John 4:19