Fear of the unknown. Fear of being in over my head. Fear of storms. Fear of getting lost. Fear of abandonment. Fear of rejection. Fear of what others may think. Fear of failure. Fear of being too far gone. Fear of not being smart enough, strong enough, good enough, pretty enough. Fear can be an overwhelming, powerful, controlling force to confront.
One thing all our children in ministry know is that anything with an intentionally dark or scary theme isn't allowed on my watch. I have often heard objections to my lack of compromise: "But Mrs. Karen, that movie doesn't scare me!" The spirit of fear is patient, though. It enters through the eyes or the ears, and it just waits for an opportune time. I have seen what fear can do.
Because the words "do not fear," "do not be anxious," "take courage," and "do not let your heart be troubled" appear literally hundreds of times in the scripture, and because I draw often upon them for comfort and strength for myself and others, why would I ever knowingly invite fear in? Especially when I see firsthand what fear has already done to steal joy and peace from people I love!
This past summer a number of our ministry children had the opportunity to overcome fears associated with water. A generous friend, an educator and swimming teacher with a heart of love, contacted me in July and asked if she and a friend could teach swimming lessons to some of our children. Children who started out saying "I can't!" or "I am too scared!" finished the week of lessons with proud shouts of victory. They overcame their fears! What an exhilarating and memorable battle to win.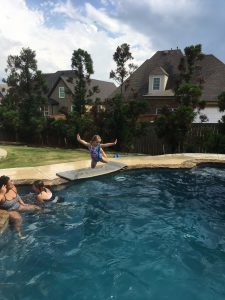 One young friend planned not to even get in the water. But after wading into the pool, she actually had the courage to put her head under. The next step was to swim under water. She was terrified. The swim teacher coaxed her and encouraged her. I encouraged her to meditate on a scripture as she was swimming, to focus on God's promise rather than her fear.  "Do not fear…. I have called You by name. You are Mine!" (Isaiah 43:1). And she swam under water! She is no longer a slave to that fear.
When we understand Whose we are, then whom or what shall we fear? Perfect love casts out fear. Look at these beautiful, fearless peeps, so strong in love, and share in their victory.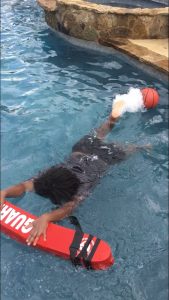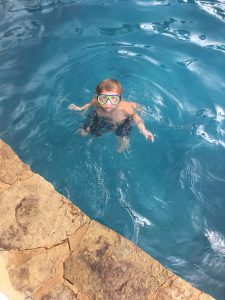 "…perfect love casts out fear…" 1 John 4:18