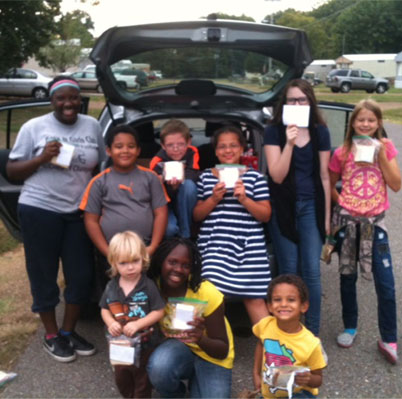 A young child sits down on the steps beside me, eager to hear a story. Doorstep Stories! Brown tousled curls frame a face bright with anticipation. And not surprisingly, during the reading of the story Hayden's delight is unrestrained. He giggles and offers four-year-old commentary at the turn of every page. (Yes, this child captures my heart!) Story finished, Hayden picks out a book from our little red wagon and skips into the house. We are on our way to the next stop when we hear him call urgently, "WAIT! WAIT!"
We pause, wondering what could be the matter. He runs into view around the side of his house and relaxes when he sees we're still within sight. "I forgot to say thank you!"
His "thank you" was so much more than words! I am smiling at the remembrance of it. And now I have the opportunity to say "thank you," too! So many blessings to recount…
Thank You, Lord, for the children of Getwell Road UMC, and for the 190 sandwiches and notes of encouragement they prepared for us to share with our neighbors. Their gifts of love were an open door for the Holy Spirit! GOD MOVED MIGHTILY! Thank You, Lord, for the children in the neighborhood where we serve. They have grown from 'being served' to 'being servants.' What a blessing these relationships with young people are! Thank You, Lord, for your power at work in the lives of adults we meet. As we give one woman a sandwich, she starts to weep, expressing her need for fellowship. A similar scenario takes place at another home, with a woman we have never met before. We are undone! Jesus comes. The hungry are filled with good things. Thank You, Lord, for the opportunity to PRAY, to call on Your name together with our neighbors. A loving group of young and old gather together in a circle, holding hands to spontaneously intercede for a hurting neighbor. We are on holy ground!
Thank You, Lord, for all those who offer their gifts, time, and talents to shine Light in the darkness. For those who faithfully give of their finances, even on limited fixed income, and also for those who give thousands to the praise of Your glory; for those who donate books, clothes, and food for emergency situations; for those who have provided an amazing RV for use in ministry; for those who pray and for those who tutor; for the individuals who keep our books, build and maintain our web site, and provide transportation; for those who are even now providing a way to renovate the neighborhood playground, O Lord, we thank You!
May our "thank you" be more than words. May our thank you be spoken in ministry- pressed down and running over- to the glory of the One whose love changes everything!
Psalm 92:1 and 4, "It is good to give thanks to the Lord, and to sing praises to Your name, O Most High; to declare Your lovingkindness in the morning and Your faithfulness by night…. For You, O Lord, have made me glad by what You have done. I will sing for joy at the works of Your hands."