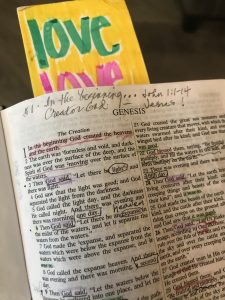 2020. This new year we are starting at the very beginning! Genesis. All the children now have their own bibles and we're reading God's great love story together.  It's exciting to see the children's eyes light up in understanding as they catch a glimpse of the continuity of the gospel, from "in the beginning" until now.
Our most recent lesson was the story of Abraham and Sarah. This is a story of the impossible made possible by a miracle-working, promise-keeping God. Abraham and Sarah each wondered about God's promise of a son in their old age. But when Sarah laughed to herself, questioning the possibility of such a miracle, the Lord asked, "Is anything impossible for the Lord?" (Genesis 18:14).  Indeed, within the year God gave them a son, Isaac! Isaac's name means "laughter." How loving God is to give laughter!
This story has particular and special meaning to us right now. The same miracle-working, promise-keeping God is at work in our midst, too. God is doing a new thing! For a number of months we have been praying for a full-sized trailer. That's big. Since we are busting at the seams in our little RV, we prayerfully approached the owner of the trailer park to ask him if we could put a trailer on one of his vacant lots. And he said yes!
We know God is leading us, one step at a time. The biggest news? We are going to have a trailer on Lot 93! We're continuing to dialogue with a friend who has a big heart for the ministry here and owns "Wheel Estates" in Tupelo. Along with us, he is eager to see God's promise become a reality. He estimates 4-6 weeks. Although we still don't know the details, we see God at work. Our hearts are filled with laughter! We have great faith to see God's kingdom come and His will be done as this open door for ministry comes to fruition.
So every time I am with the children and we pass Lot 93, we extend our hands and speak a prayer asking for the fulfillment of God's promise, a trailer for our lot. Can you picture it?! Below are some of our children, already celebrating. They will tell you: nothing is impossible for the Lord!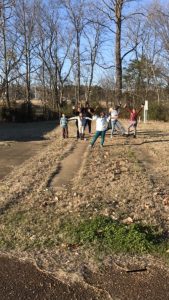 "Then our mouths were filled with laughter and our tongue with joyful shouting… 'The Lord has done great things….'"  Psalm 126:2