How I tried to get this out last night before midnight! But after I took five dear friends home from a special New Year's Eve gathering at Celebrate Recovery and settled myself in with my iPad to write, my heart was too full and my eyelids too heavy. I know it's already New Year's Day, 2020. And I have sweet anticipation for all this new year holds! But right now I confess I am still turning the page…and I am asking the Lord to please write for me as I share some beautiful glimpses of "God with us" from December, 2019.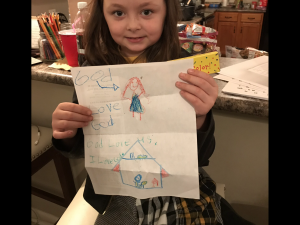 On Christmas Eve, our precious young friend started this manger scene drawing at church and finished it at our home. "God loves us. I love God."  
After taking children and adults to our church's candlelight Christmas Eve service, we returned to our home for a celebration. We had tacos and Christmas treats, we played games, told stories, made memories…. God with us.
In mid-December we had a Christmas "thank you" party for friends and volunteers. 50 children and adults (I still don't know how we all fit!) filled our home. The children brought their offerings of songs, signing, drumming, scripture, and love…. Their gifts of love brought such joy! Eyes spilled tears. Guests remarked that they felt the Spirit's presence so strongly. God with us.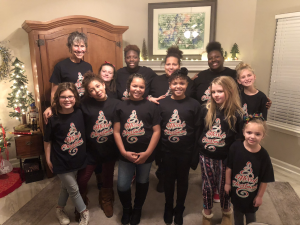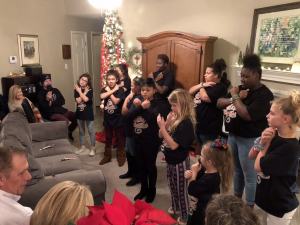 In December many friends of TMC brought gifts and provisions for those we serve. Over eighty children were "adopted" and provided Christmas gifts by generous donors. Other donors provided coats and jackets. Yet others opened their homes for cookie decorating and movies. Some volunteered to come alongside us at our home, bringing gifts of food, and helping with jewelry-making and pretzel-dipping and silly snowman-on-a-plate drawings. Some college-age young men made 3-D toys for all the children and delivered them in hand-made stockings. Others gave goodie bags with stuffed animals and hand-written notes and tickets to the movies and financial support for those in crisis. Amazing love.
What an indescribably rich, grace-filled month! We thank God for every partner on this journey, every seed that has been sown. In God's economy, every offering and all things are from Him, through Him, and to Him. God with us!
"Behold, a virgin shall conceive and bear a son, and shall call his name Immanuel, meaning God with us." Isaiah 7:14, Matthew 1:23
"God so loved the world that He gave his only Son, that whoever believes in Him shall never die, but shall have eternal life." John 3:16
What joy, what mercy, what peace is ours! What love has been multiplied to us!