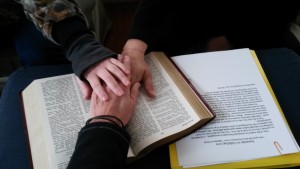 I recently sat in a courtroom with a friend who desperately wants a new start. She is going before the judge.  And she has been there before, more than once.  I am aware that she is lost in her thoughts, subdued by overwhelming realities. Even though she sits silently on my right, I can hear the accusations of an unseen enemy. LOSER!  You think your life is ever going to be different? What a joke. There is no hope for you. You need that sedation. Forget trying to fix this mess! NOBODY believes you can change. Not even you.
I sense the courtroom camaraderie among some of those around me–connections made by unhealthy paths crisis-crossing in bad places. They're unconsciously tracking one another, possessing a fickle sort of loyalty to the family of the broken. I am not surprised at the number of people I know. Another reminder that the battle rages.
Since the letter of the law has necessary consequences, employees in the judicial system deal with the facts, day after day. And the facts are not pretty. So I can understand why these folks may become calloused. They are dealing with physical laws and the consequences of breaking those laws. But what about the One who sets captives free from the law of sin, no matter how big that sin-mess is? GOD. SO. LOVED. THE. WORLD. Jesus came to a world full of sinners. Listen! Sinners!
When David Wilkerson went to New York to share the love of God with hostile gang members, he was not deterred by their flagrant disdain for the good news he had to share. When gang member Nicky Cruz came after David Wilkerson with a knife, saying he was going to cut David into a thousand pieces, Wilkerson responded, "and every piece will cry, 'I love you!'" Eventually Nicky Cruz' life was radically changed by love that wouldn't quit.
May everything in me cry, "I love you!" NO ONE is out of God's reach. I have words of hope, words of life burning inside of me! Have people heard it? Do they personally know that they are worth saving from the downward spiral of destruction they are in?
I am constantly challenged by my own love limits. How many times must I forgive? Seven? No, thankfully forgiveness never runs out. Real repentance is matched with real forgiveness. Every time. Yes, it is hard! That's why I need more of the Holy Spirit and less of me.  In some cases, I know that letting go can be as hard as forgiving. "I love you!" may require that I let go. But I still watch the horizon for the day that lost one may return.
I will never accept that God isn't able. More of the Holy Spirit, Lord, more! More hope. More love. Hope born of love does not give up. Nothing is impossible for the Lord!
Luke 9:56, "for the Son of Man did not come to destroy men's lives, but to save them…"
Matt. 18:21-22; Luke 15:18-24; Rom. 5:5; Matt. 19:25-26