We were at Victory for worship on Valentine's Day, Sunday, February 14th. Snow was just beginning to fall, leading up to a week of shut-down due to snow upon snow. But on that Valentine's Day, children's eyes wide with excitement, we cut out snowflakes and talked about Jesus being the best Valentine ever. "Though your sins are as scarlet, they shall be white as snow…" (Isaiah 1:18). Isn't God's love amazing? Is there any more powerful promise than forgiveness, freedom, and love that never fails? I think not! Jesus' gift is so pure, so perfect, so powerful, that nothing in this world will ever compare.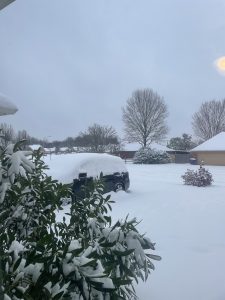 Corrie ten Boom wrote. "No pit is so deep that His love is not deeper yet." I have tasted and seen His love, and I will never be the same. God is love. No more shame, no more condemnation. No past mistakes or present hopelessness or future anxiety can stop His love. All are welcome at the foot of the cross. Each and every one of us.
But so many don't yet know that Jesus is waiting, arms wide open,  for them. How amazing is it that we get to give out invitations?!
Jesus stands victorious over our every failure, sin, regret, and "if only," and He is ever ready to make us white as snow. New mercies. Ashes to beauty, mourning to joy. Oh, come! Taste  and see that the Lord is good!