In June we had two separate, special opportunities to participate in Vacation Bible School. One VBS was held onsite where we minister, and the other was on location at the church where we worship. Both VBS experiences were gifts from two different congregations who put love in action. Some of our children participated in both events. And all the children, over 35 total, heard this promise: no matter what shipwrecks we may face in life, big or small, Jesus is ready and able to rescue.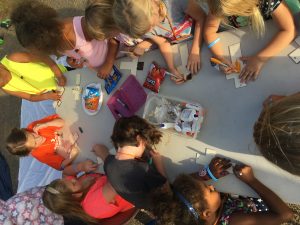 At VBS, we witnessed lots of little rescues. Children were fed. Some children came barefoot and returned home in shoes. Others arrived soiled and left clean, wearing new clothes. Don't be shocked by the fact that we experienced some urgent needs for rescue from disrespect and unkindness, too!  We weren't just theorizing about our shipwreck. We were seeking the rescue we need from our own broken state.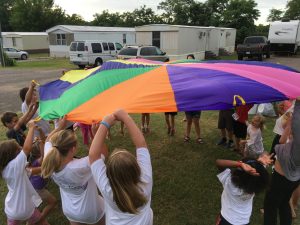 We shared laughter; we played games, danced, and did motions to beautiful new songs. We heard Bible stories and created crafts. We didn't just talk about it. We saw it. Jesus rescues, in big and little ways! Jesus delights to turn every mess into a message of redemption, and every test into a testimony of rescue.
This week as I stood at the little playground by our RV, I bemoaned the fact that someone had wrapped a swing so tightly and so many times around the top of the swing set that I couldn't get the swing free. I tried over and over again and was unsuccessful. A young friend standing with me saw my frustration. She looked up at the swing and then looked at me and smiled. "Jesus helps you," she said confidently.
She had no idea the impact her words had on me. I stopped what I was doing, took her precious cheeks in my hands, and kissed her sweaty forehead. Oh, the joy of her simple childlike faith! The VBS message, bearing fruit! You can guess what happened after we asked the Lord for help. On the first try the swing was free! What a sweet witness that was to both my friend and me.
When you're worried? When you're lonely or afraid? When you do the wrong thing or when you don't know what to do? Call on Jesus. "Jesus helps you!"
"Do not fear,  for I am with you. Do not anxiously look about you,  for I am your God. I will strengthen you,  surely I will help you. Surely I will uphold you with my righteous right hand." Isaiah 41:10