Spring break. Ahh, the promise of freedom those words inspire! Spring break means no school schedule, no early morning alarm, no homework. Spring break means more time with our friends.  We treasure having more time together!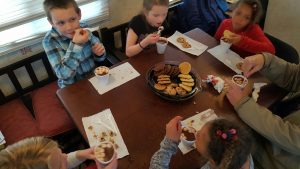 On the first day of spring break, we had an impromptu "cookies and hot chocolate" party. Weather gave us a CHILLY welcome to our spring break, so after distributing bread and snacks we returned to our RV for hot chocolate and cookies. Lots of memories are made around the table, and so it was at our little party….
On the second day of spring break we had a girl party. We read princess stories and then put together puzzles that went along with the stories. I am happy to say I know LOTS of princesses personally.  ❤️ And they all are great puzzle-workers! We are thankful for a donor's gift of 12 princess puzzle story books, enough to give one to each girl who came.
On the third day of spring break (sorry no photo!) we had many drummers drumming and many singers singing. Our musical extravaganza of singing and drumming was followed by snacks and sharing.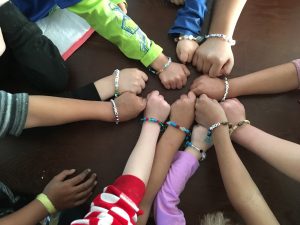 On the fourth day of spring break, we made beaded bracelets and keychains. Each child personally designed and crafted his or her own creation, some making their pieces to keep, and others making their pieces to give away. What amazing artists!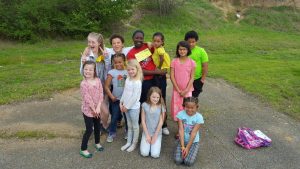 And on the fifth day of spring break we gathered to celebrate March birthdays. Cupcakes and drinks and singing "Happy Birthday" kicked off the celebration. We celebrate the gift of LIFE!
And it is. PURE. GIFT. Together. We love our peeps!
Ahhh! ❤️