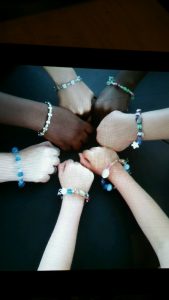 Last weekend I spent some one-on-one time with a pre-teen friend. She used to live in the neighborhood where we minister, but her family moved. Although her home life changed dramatically after the move, we still continued to be friends. So this weekend we went to the TMC ministry space to make a bracelet and spend time together. It wasn't long before six more young people came to the door to see what we were doing. Of course, they came inside and made bracelets, too.  The attached photo shows the masterpieces they each created. Artists, each one!
Sometimes the TOGETHER in ministry is planned, and sometimes it is spontaneous. I am grateful that when the children see our door open, they come. We are thankful to be part of their lives!
So much has taken place with Together Ministry Center in the past month. One of our young friends recently shared with us that she got the end-of-year award for "Most Improved Student." She improved from borderline failing to a final grade of B. Academic victory!  God uses our TMC tutors to touch lives in powerful ways. Our recent stories of help and hope could go on and on: reading glasses repaired, car air conditioning restored, medical transportation provided, a veteran honored, families helped.
Every life counts. Every victory brings a shout of joy! We have seen victories, and we have also experienced disappointments. Many times our prayers are mingled with tears. But the promise in Psalm 126:5-6 is this: "Those who sow in tears shall reap with joyful shouting. He who goes to and fro weeping, carrying his bag of seed, shall indeed come again with a shout of joy, bringing his sheaves with him."
So our hearts are steadfast.  I don't regret a single tear. The shouts of joy make every tear worth it! We are going about day after day, carrying our bag of seed with us. And today I am giving a shout of joy!