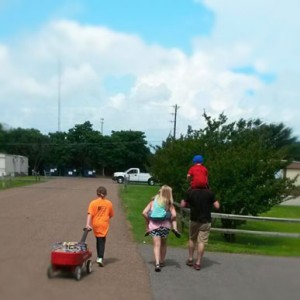 All week we heard the weather-talk about the threat of rain on Saturday. A block away from where we ministered, sure enough a two-minute torrential downpour drenched the neighborhood. But not a drop fell on the ground where we walked. Glory! The Son was shining on our appointed time and place, and we had not rain but wind. All day a strong wind tugged at our tailgate tents, a palpable reminder of the Holy Spirit's presence.
About 25 beautiful volunteers came together in ministry with TMC on May 30th. Thank you to all who served, donated, played, and prayed. Here is a snapshot of what took place:
Tubs of sorted, donated clothes sat on tables and on the ground, making it easy for folks to find what they might be able to use. TMC served dozens of residents, providing clothing for infants, adults, and all ages in between. One family was waiting before we even got set up. A grateful mother found clothes for her family and came back later to show us her babies in their new outfits. Another young boy found a sport coat just his size. He put it on and didn't take it off. He was best-dressed at our cookout, with his smile and new sport coat! So many people were helped and blessed.
Young people gathered on doorsteps to hear stories of Jesus' love and power. Each child got to choose and keep a book from our red wagon. Back at the tent, thanks to one of our donors, families received a Jesus Storybook Bible free of charge. Lord, remind these your children of your love and presence when they pick up their new books!
A TMC volunteer passionate about children and education, a qualified K-5 reading and math tutor as well, signed students up for tutoring. Exciting progress! Because intervention at a young age is critical to a child's future, TMC is dedicated to addressing this need.
Life, a gift of abundant grace, was both the song we heard and the song we shared. Thank you, Maples' United Methodist Men for providing a generous spirit of joy along with hot dogs and fixin's, chips and cookies, Northcentral Electric Power Ass'n for bottled waters, TMC friends and Getwell Road UMC for helping hands and servants' hearts, TMC board for prayers and presence.
Saturday was an investment in someone's life. Two lives. Three lives…. Whether it's during a pick-up football game, a doorstep story, or a conversation over a bin of clothes; whether we are welcoming a stranger while eating a hot dog, offering to tutor a struggling child, jumping rope or walking together on a road while pulling a wagon of books, Christ comes. He fixes what is broken and then He holds it together. What a Redeemer!
Job 19:25, "For I know that my Redeemer lives, and at the last He will take His stand on the earth."