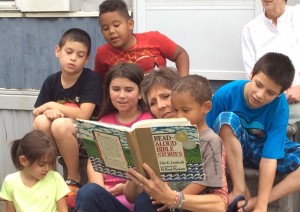 "He is before all things, and in Him all things hold together." Colossians 1:17
We are convinced of the value of relationship. "For God so loved the world..." As we go out into the world, starting in our backyard, we go to share God's love. The love relationship God has shared with us is the most precious gift we have to offer. In building relationships with those who often feel rejected, abandoned, or alone, we are told by those same people that they learn to trust our love because we come in love....and we keep coming.
We don't drop off the goods and wait till Christmas next year to return. We don't come conditionally, expecting people to change something or do something for us. We come trusting that the love of Jesus will bring about the freedom, healing, and change that is the longing of all our hearts. And we use every available means at our disposal to sow those precious seeds of hope.
Door-Step Stories: a seasonal ministry which gives us the opportunity to sit down (yes, on a door-step!) with children, read a story aloud, and then invite each child to pick a book from the little red wagon- to keep!
Mentoring opportunities: adults and children
Time together to learn new skills: bucket drumming and jewelry-making are a few of our specific on-going means to connect in relationship.
Time together to share meals, fellowship at the table, have cook-outs, read aloud, listen, and laugh!
Time together in prayer and Bible study, and in application of scriptural principles to marriage, families, and jobs.
Every compassionate act of hope and help strengthens relationship. Sometimes people are looking for band aids. But TMC is committed to more than that. TMC is not another welfare agency, even though we are equipped to meet various physical and financial needs.
 TMC is born from the soil of prayer. And prayer is about a personal relationship with a living God, Jesus. Jesus is the One who holds everything together (or puts broken lives back together!). He is our first relationship.
 Life is short. If we miss relationship, we miss it all! Relationship is where love becomes real. Every connection, every conversation, every gift of hope, every gift of help leads to the possibility of relationship.
RELATIONSHIP l  HOPE l  HELP