Thank you for  every  gift of love and act of support you have shown Together Ministry Center in these months of COVID-19. In spite of obstacles, so many needs have been met! We have had food to distribute 4-5 times a week, thanks to many donors and volunteers. Our trailer, the Victory, is open again for tutoring and small group gatherings (with meals). We even had a memorable first at Victory recently: a wedding!
Beyond the joy of reopening Victory, we are also thrilled to have a resident in our freshly painted and renovated RV. She is a new creation in Christ, on fire for Jesus. This month we also secured an additional trailer, helping another woman do the same. We are sharing life together, helping these women transition into the life God meant for them to live. God has good plans for our friends, plans formed long ago with perfect faithfulness! We are so glad to be part of that plan. All things are being made new! It is so beautiful.
Truly, there is no greater joy than seeing adults and children learn that they are loved by a God who calls them by name. As I was running and praying this week, feeling admittedly overwhelmed and taking all my "must-do" items to the Lord, I took a new route. This is the message someone wrote in the concrete for me.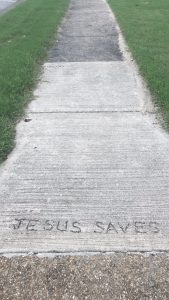 Yes. The promise still stands. Jesus saves! He never stops working. He is working now!  He overwhelms all my overwhelming with His infinitely perfect and powerful love. What a journey of surrender! Thank you for sharing the journey with us.
"Behold, I am doing a new thing…" Isaiah 43:19